To book Santa please call 702-522-7235
or email at ThePerfectSanta.com@gmail.com.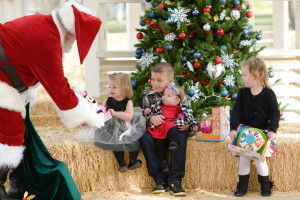 TERMS:
Travel Times
If Santa needs to travel North of Sahara or East of Las Vegas Blvd, an additional travel fee of $25 will apply.
Entrance/Parking Fees
If there is an entrance or parking fee at the location of choice, that must be paid by the customer.
Gifts
Santa does not provide gifts for the children. However, he will give gifts to the children if they are given to him privately just before entering the home/event.
Jesus Christ
Santa will talk about the reason for the season. If you are uncomfortable with that, please say so at the time of booking.
Security
Santa belongs to the Brotherhood of Real Bearded Santas. To be a member, you have to pass a background check. Before he was Santa he held a top security clearance for the government and is highly trusted. Your children are safe with Santa. Santa has 8 grandchildren of his own.
Book Quickly
Santa's schedule fills up quickly! Please book as soon as possible. You are not guaranteed a visit until it is paid for!
Payments
All payments are to be done via Paypal. You will receive an invoice via Paypal from one of Santa's Elves after you call and schedule your visit. Your visit is not booked and your time slot is not saved until your Paypal invoice is paid in full.
Cancellations
In order to receive a refund, you must cancel at least 48 hours in advance. Cancellations after this time will not be refunded.
Rescheduling
You may reschedule if necessary, if Santa's schedule permits. All rescheduling needs to be done at least 48 hours in advance of your visit.
Problems
If you have had a problem on your visit, please call or email us. Santa wants to make sure all the children (and parents) are happy!
702-522-7235
ThePerfectSanta.com@gmail.com
*If you book your visit with Santa you are agreeing to these terms*